Smythe LLP Welcomes Three New Partners to the Firm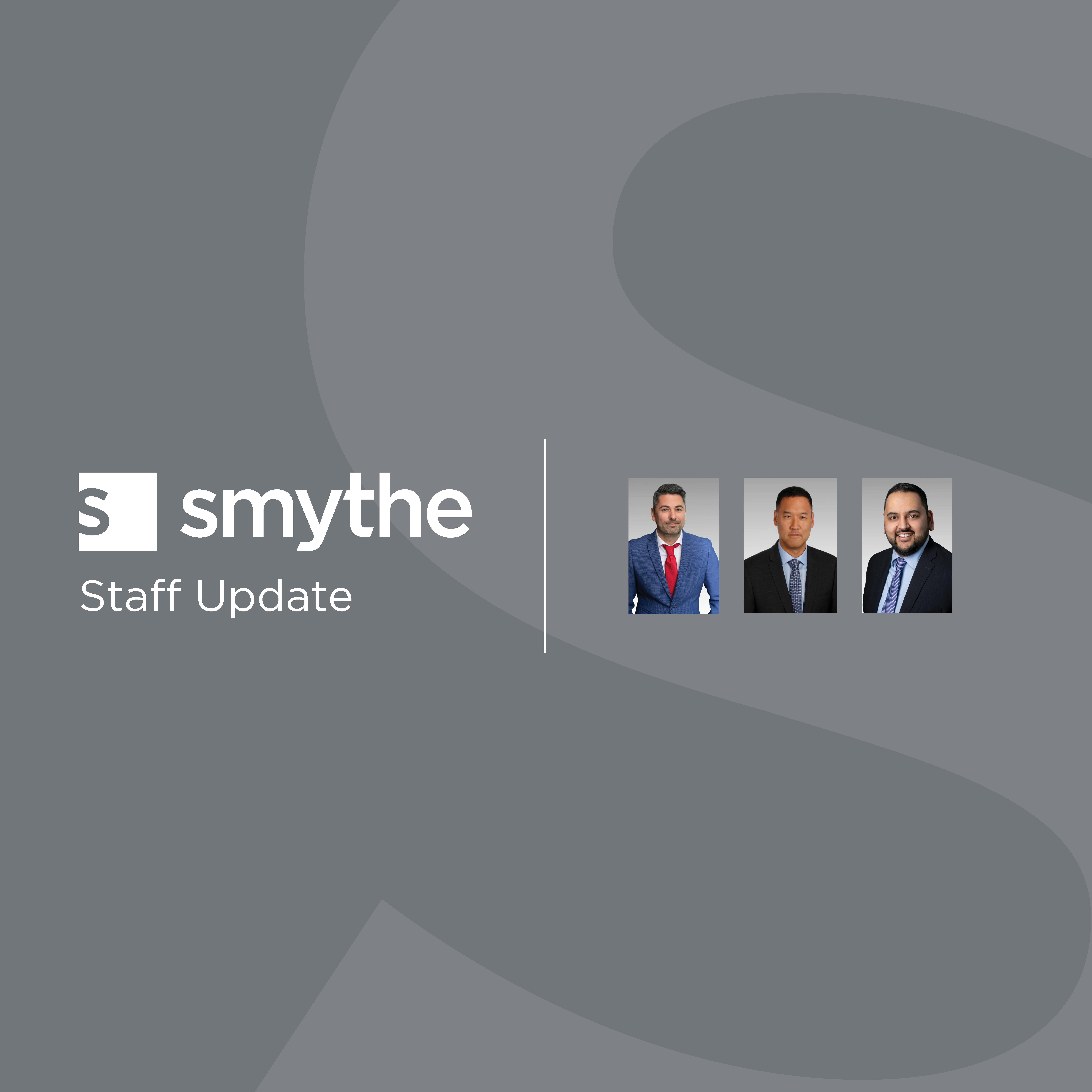 Vancouver/Langley BC – Smythe LLP (Smythe) is pleased to welcome Aaron Dawes, Brent Hoshizaki, and Subash Chand to the partnership effective Jan 1, 2022.
Aaron Dawes is a CPA, CGA in Canada, and an Enrolled Agent in the US. Aaron began his accounting career in 2006 with a local firm before moving on to a national firm where he spent 10 years working in global mobility services in Vancouver, Los Angeles, and Hyderabad. At Smythe, Aaron specializes in personal Canadian and US taxation services, with a focus on consulting services for foreign nationals immigrating to Canada, Canadian residents emigrating from Canada, stock option and equity plan reviews, and US tax consequences to US persons with Canadian private companies. With his extensive background in providing cross-border tax consulting, Aaron brings a niche skillset to further develop Smythe's cross-border Personal Tax Practice.
Brent Hoshizaki is a licensed CPA in both Canada and the US and holds a Master of Science in US Taxation from Golden Gate University, and a Bachelor of Commerce from the University of Alberta. Brent started his career at a national firm in Edmonton and has worked both in public practice and industry in Canada and the US. Most recently, Brent was a US Corporate Tax Partner at a national firm in Vancouver. At Smythe, Brent leads the US Corporate Tax Practice, a rapidly growing focus for the firm. He is a key player in building out Smythe's US corporate tax planning capabilities as client needs become increasingly more complex. Brent will work with the wider US Tax Group, led by Janice Wells, to broaden Smythe's reputation as a leading cross-border tax provider in North America for businesses of all sizes.
Subash Chand is based out of Smythe's Langley office and has resided in the Fraser Valley for most of his life. He graduated from the University of the Fraser Valley with a Bachelor of Business Administration with a major in Accounting. He obtained his Chartered Accountant designation in 2012. Prior to joining Smythe's Langley office in January 2019, Subash worked as a Senior Manager with another mid-sized firm in the Fraser Valley for over ten years. At Smythe, Subash is primarily focused on providing accounting, assurance, and tax advisory services. He specializes in the agricultural, manufacturing, professional services, and real estate sectors. Subash's expertise in agri-business, real estate & manufacturing and his connection to the Fraser Valley community will be integral to further expand Smythe's presence in Langley and the wider Fraser Valley.
"The appointment of Aaron, Brent and Subash as Partners represents an exciting period of growth for our firm", said Bob Sanghera, Managing Partner at Smythe. "We're experiencing growing demand and complexity of requirements from our cross-border clients. We look forward to deepening the value we can provide to both individuals and corporations by building out our US/cross-border capabilities with Aaron and Brent. Further, welcoming Subash to the partnership presents a major opportunity for expanding our reach in the Fraser Valley—where we recently opened a new office—and the fast-growing agriculture, real estate and manufacturing industries we serve."
About Smythe LLP
Smythe LLP is a full-service accounting firm recognized for exceptional work in the areas of assurance, Canadian and US taxation, valuation, insolvency and business advisory services in Vancouver, Langley and Nanaimo. Smythe's clients include private and public companies, family-owned businesses and not-for-profits. It's skilled audit, tax and advisory specialists are a diverse team of professionals – many of whom are experts in the real estate and construction, mining and resource, insurance and technology industries across BC and Canada-wide.
– 30 –
Media enquiries:
Sara Wasiuta
Senior Marketing & Communications Manager
E: swasiuta@smythecpa.com
T: 604 687 1231