Smythe Welcomes Marketing & Communications Manager and US Tax Managers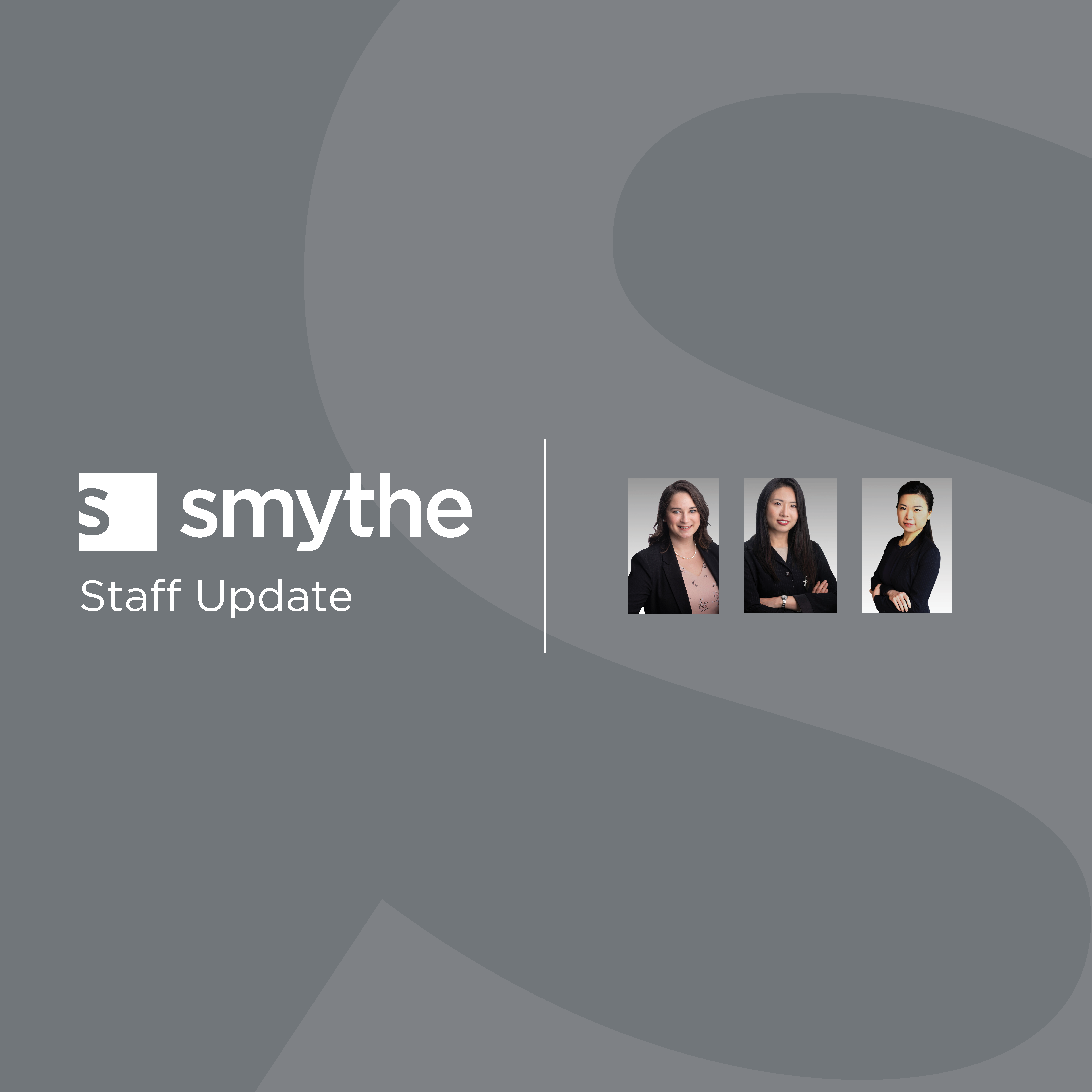 FOR IMMEDIATE RELEASE – February 25, 2021
VANCOUVER, BC – Smythe LLP (Smythe) is pleased to welcome a new Marketing & Communications Manager and two US Tax Managers to its downtown Vancouver office.
Sara Wasiuta, BA, joins Smythe as the Marketing & Communications Manager. Previously, Wasiuta focused on Public Affairs working with both the Canadian Armed Forces and the House of Commons. More recently, she has led the Marketing and Communications departments for both a global ERP Consultancy and an Energy Efficiency Social Enterprise in the Professional Services space. She has a Bachelor of Arts in Rhetoric and Communications from the University of Winnipeg and a Creative Communications diploma from Red River College.
JiaLi Mao, CPA (NH), joins Smythe as a Tax Senior Manager with 9 years of US personal tax experience from two of the big four firms in Toronto and Bermuda. She provides Canadian and US compliance and consulting tax services for individuals.
Laura Luo, CPA (NH), joins Smythe as a US Corporate Tax Senior Manager with 10 years of US corporate tax experience from two of the big four firms in Vancouver. Luo provides US corporate compliance and consulting tax services to public and private companies.
"We look forward to the skills and expertise that Sara, JiaLi and Laura bring to the Firm," says Human Resources Partner, Herve Leong-Chung. "With Sara leading the Marketing and Communications team, we foresee a higher reach with our current and prospective clients and enhancement in our internal people communications strategy. With JiaLi and Laura's addition, we continue to expand our US tax group, both in the areas of personal cross-border, as well as our corporate tax practice."
About Smythe LLP
Smythe LLP is a full-service accounting firm recognized for exceptional work in the areas of assurance, Canadian and US taxation, valuation, insolvency and business advisory services in Vancouver, Langley and Nanaimo. Our clients include private and public companies, family-owned businesses and not-for-profits. Our skilled audit, tax and advisory specialists are a diverse team of professionals – many of whom are experts in the real estate and construction, mining and resource, insurance and technology industries across BC and Canada-wide.
– 30 –
Natasha Kambo
Marketing Coordinator
E: nkambo@smythecpa.com
D: 604 694 7559
T: 604 687 1231